Animal Loving Housesitters
ANIMAL LOVERS:
Lori and Duane have had horses, dogs, cats, birds and aquatic pets. Never having had human children, they treat pets with the same love and care as parents do with their children.
Duane is the biggest home-body you'll ever find. Lori goes out now and then for errands. As house sitters, that means they won't just be home late at night. They will be home more than ninety percent of the time, providing not just care, but attention and company for your animal companions.
Duane 12 years old
They buy only cage-free eggs and they eat no animals, to help prevent suffering . Duane will catch insects in the house and release them outside, rather than kill them. They have used only live traps for rodents on those occasions when rodents found their way indoors.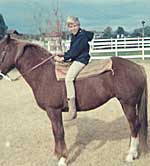 RECREATION:
Lori and Duane are physically active, daily engaging in one of the following activities: walking, swimming, and biking. Duane plays a little piano and guitar. Lori likes explorative cooking, meaning she likes to constantly attempt new recipes and methods. Both Lori and Duane prefer quiet, natural surroundings.
Duane and Jamboree

Our Tennessee Cottage

Four months sailing British Colombia